---
Maintenance setup
Preventive maintenance is crucial for keeping vehicles safe, road-worthy, and as efficient as possible. GpsGate Maintenance lets you create service schedules for all preventive maintenance tasks. With the smartphone app, mechanics can log tasks in real-time with step-by-step itemisation for enhanced quality control. Save money on resources, streamline labor, and keep your fleet uptime at a maximum.
Maintenance is only available for GpsGate Cloud. GpsGate On-site customers can still use Maintenance (Legacy).
Setup
1. Log in to an application with a Site Admin user.
2. Access the Store menu
3. Select the Maintenance link
4. Click on Configure at the top-right

5. Choose in which application/s you want the feature: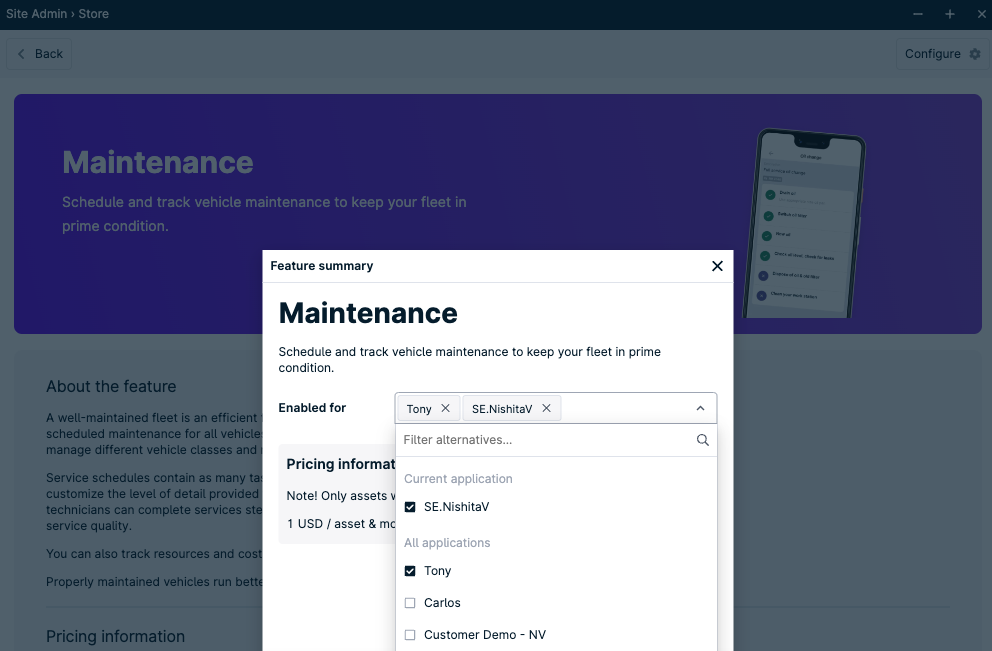 7. Click on Apply changes.
If you applied Maintenance to a different application from the current one you're logged in, you should see the message at the top-right of the screen:
Log in to that application to see Maintenance.
If you applied Maintenance to the same application you're logged in, you have to click on the Reload page.
8. The Maintenance window will show up at the bottom-right of your workspace
Next steps
1. Link the setup on the server with the Maintenance smartphone app.
2. Add Maintenance schedules to the system.
---