---
Time on Site based on Geofences
Time On Site Reports can be used with Geofences or with POIs, to see the time spent in a location and if the locations were visited or not.
This article shows how to set up a Time on Site report if you want to use them with Geofences.
Geofence Event Rule setup
1. Go to Admin > Event Rules and select + Event Rule to Create a new Event Rule.
2. Put a name to your rule, and choose Enabled > No
This option disables the event rule for "live" events but enable it for reports.

3. Include your Geofences Groups you need to add.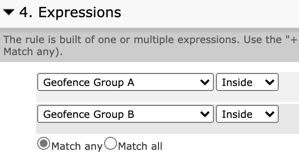 4. As a notification, select Report Argument, and use


5. In Presentation, keep this option disabled.

6. Save your Event Rule
---