---
XML001 Offline Report
Description
The Offline Report shows the vehicles that have been offline. The report display results grouped per site and according to the time and tag parameters selected in the report.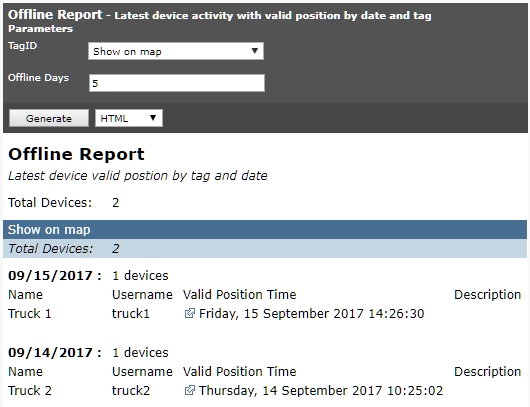 In-report information
Total Devices:

the total number of devices shown in the report results.
Name:

the name of the vehicle/unit
Username:

the username of the unit

Valid Position Time:

the date/time of the last known valid position.
Description:

the description of the user if exists in the user properties
Requirements
This report works with any device. The report requires tracking data from the devices in order to display information.
Setup
1. Go to Site Admin > Plugins > Get More Plugins
2. Install System Report plugin.
3. Download Offline_Report.xml file
4. Import the previous file following the report importing method described here.
---