---
License key
GpsGate Splitter has a 14-day trial. If you want to continue using GpsGate Splitter after the trial period, you need to buy a license key.
Read GpsGate Splitter installation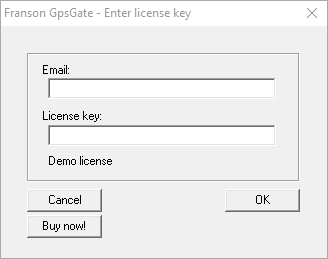 Installing the license key
First, you need to purchase a license key. You will have the key delivered to you by email directly after the purchase. You can purchase a license key here.
Start GpsGate Splitter. If your trial period has expired you will have the dialog below displayed to you. If your trial period has not expired, select License Key from the GpsGate Splitter tray menu.
Cut and paste your email address and the license key you received by email after your purchase. Then press OK.
The license key is now installed.
---