---
Western European borders report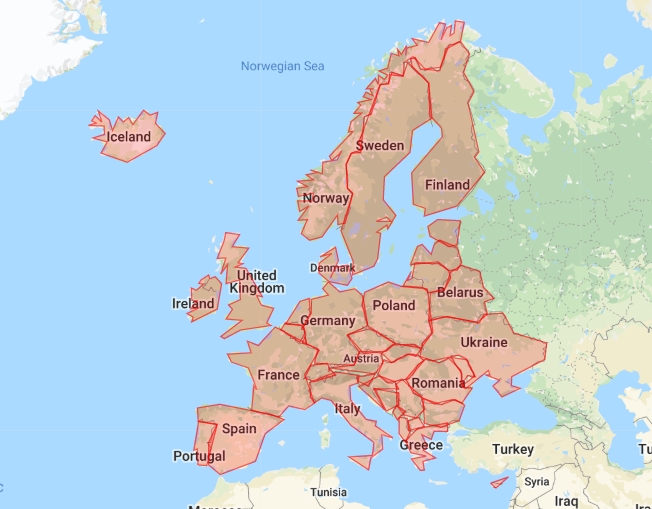 The European borders report will allow you to show the number of kilometers/miles driven by your vehicles grouped by country and vehicle. This report does not need a geocoder to get information about the borders.
Report setup
1. Download the Borders_Europe_Report.zip
Import TR2005 IFTA Report Europe.xml in the Site Admin > Import and selecting Template
2. Activate the report in your application under Privileges and Features > _CreateReport > TR2005 IFTA Report Europe
Read more about how to access privileges and features here.
Additionally, you have to add the following privilege under Admin > _ImportTemplate
3. Log in to the application and import the geofences Western European Boundaries.xml in Admin > Import Template
Note: the geofences includes most of the European countries and the continental boundaries. Islands and off-shore land is usually not included. The borders can be edited and corrected manually by the user upon need.
Wait until you get the confirmation. It could take 10 seconds or more depending on your server speed.
4. Go to Reports > Manage Reports
And select your preferences in the parameters options and then click on Save
If you have tracking information in the different European countries, you'll be able to see the amount of kilometers/miles driven grouped by country and vehicle (as in the example below)
Important notes:
To improve the server performance, you can remove the countries you don't need from your Geofences in the Geofence panel > Geofence Mode.
To remove all the countries and tags, the quickest way is to select Tag Mode, select Europe Countries tag, and then select Remove all geofences option. This will remove all the geofences that are included in the tag only.
---