---
Publish
Publish plugin enables you to show vehicles in a View from Vehicle Tracker on another web page as an embedded map, for example a live public view of selected vehicles on a corporate site or a blog. To install, setup and use the Publish plugin please follow this guide.
Moreover, the Share Location feature (using the _CreateSharedLocation privilege) allows to generate Shared Location links both for the UI and the REST API.
Requirements
Setup
1. Install the Publish plugin in SiteAdmin.
2. Enable the Publish privileges under the application properties Plugins > Publish
Configuration
You can configure this plugin with an Admin user inside your application.
If you need to add configuration privileges to operators user types, they need to be member of a role that has the Publish privilege enabled.
Follow these steps to give Publish rights to a user:
Login with administration rights to your VehicleTracker application and click on Roles in the Admin menu.
Select the role that you want to give rights to
Find the Publish privilege and enable it.
All users in that role will be able to publish Views that they have access to.
How to Use
1. Log into your application as a user with Publish rights
2. Open up the Publish window found in the Windows menu.
3. Follow the Publish wizard, it is divided into 4 steps:
3.1. Choose a size for your map and select Native Map or Google Maps.
3.2 Choose what logo you want to display in the map footer and what address you want the image to point at
3.3 Enable the current View. You can also Disable the View if you do not want to Publish it anymore
3.4 Copy the code and paste it into the right place on your blog/website
Note: Native Map only supports the links shown in the picture (red). The Embed map in web page code is to be used only if you use Google Maps. If you don't own Google Maps key, don't use it in your Web page.
If you choose Google Maps in the 3.1 step, it supports all the codes generated.
How to test
1. Download index_test.html and open it with your favorite text editor.
2. Replace the code generated in Publish, in the correspondent section of the file.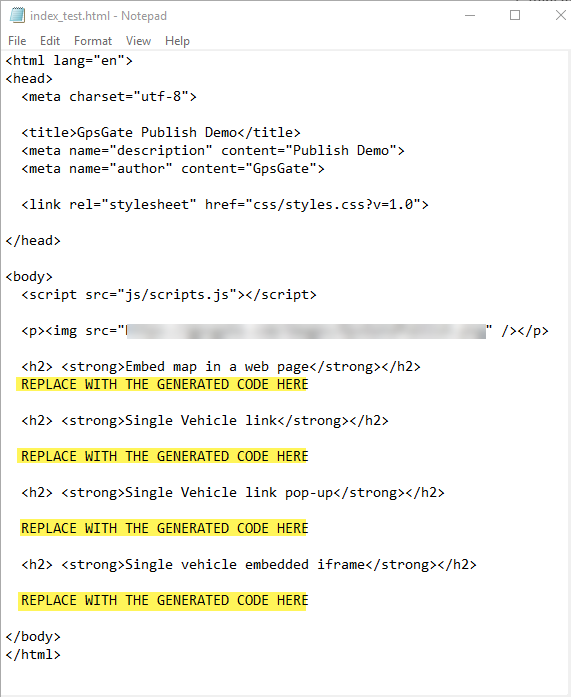 3. Once you've pasted the code, replace USERNAME for your vehicle username (you can see the username by adding the column Username in the Vehicle Panel or using Overview).
4. Save the index_test.html file.
5. Open the index_test.html file using your favorite browser.
---