---
Google Maps installation
It's easy to install and configure GpsGate from the Store. Select the applications directly within the UI and enjoy street maps, live traffic updates, and satellite imagery. After configuring, you'll always have the latest version of Google's mapping system installed.
Google maps features include:
Satellite imagery: High-resolution satellite images provide a realistic view of fleet vehicles on the map.
Street maps: Get detailed directions and information about businesses and other places on street-level maps.
Street View: Need further route details? Get on ground level and see 360° panoramic views.
Real-time traffic conditions: Get up-to-date traffic information to help you avoid congestion and plan routes accordingly.
Google Geocoder: Use Google Geocoder to convert addresses into GPS coordinates and vice versa. Unlimited geocoding from one of the most accurate in the market!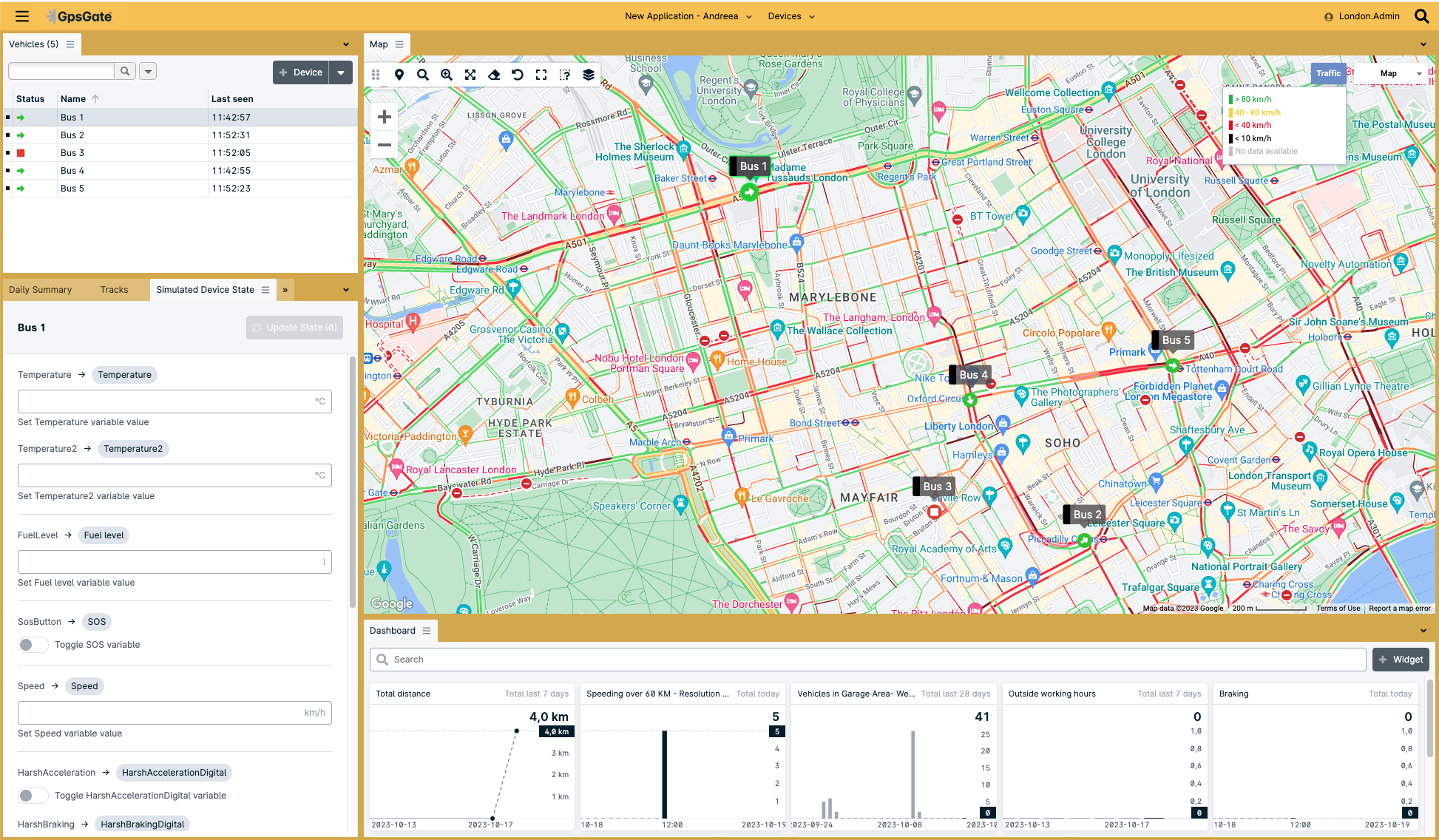 How to enable the Google Maps:
As a Site Admin, you can access the Store by clicking on the icon in the top right corner of the screen.
Once in the Store, select the Google Maps feature and press the +Install button.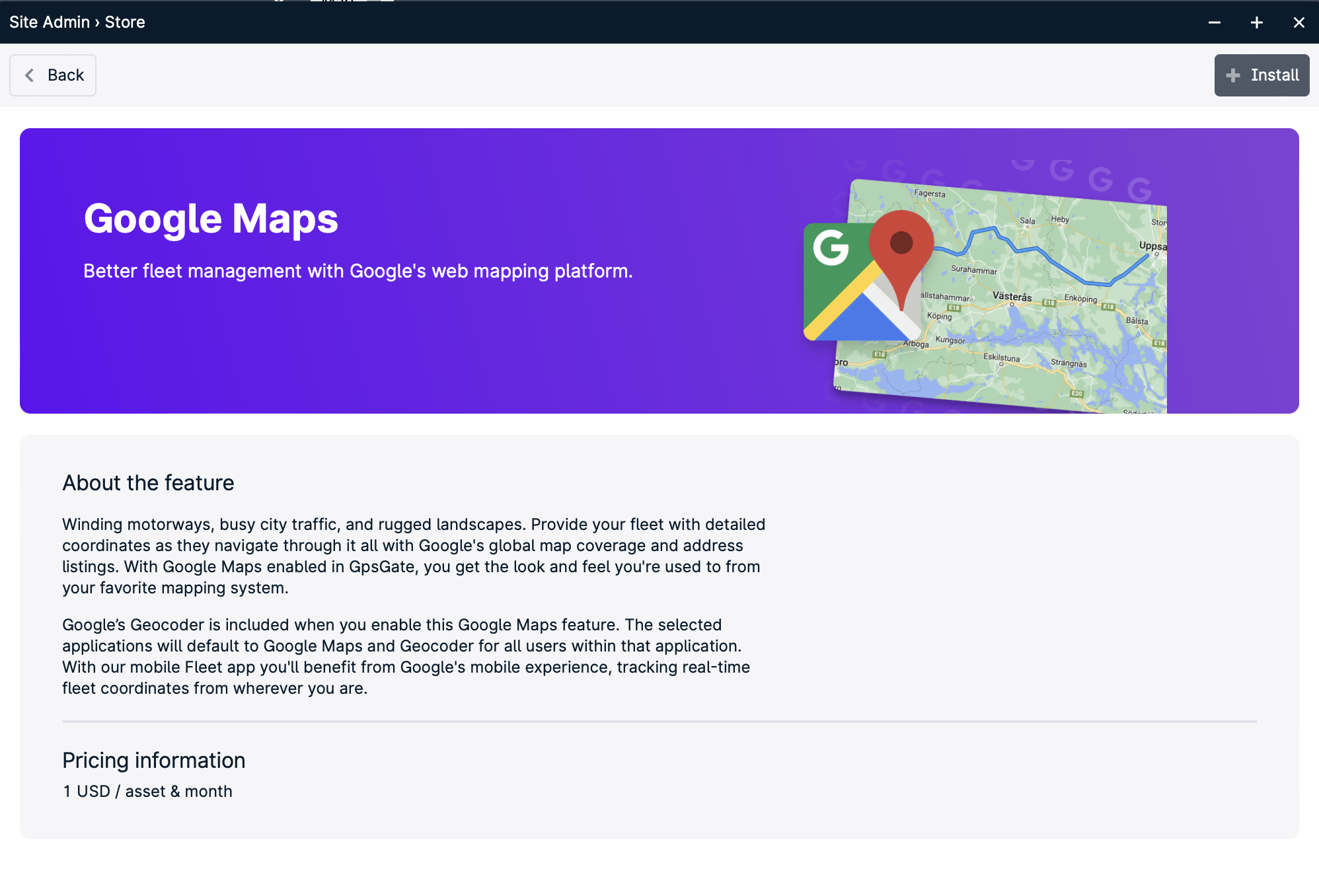 2. If your platform is not updated with the latest plugins, you will be prompted to update before enjoying this feature. Update now to proceed with the installation.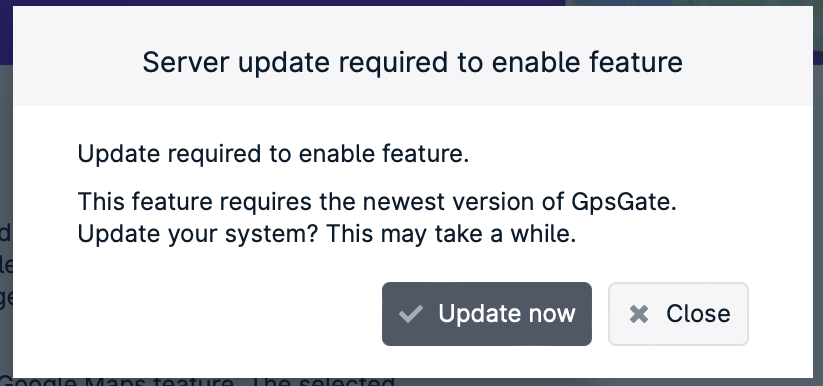 3. A loading bar will appear. Please do not refresh the page or close the window while the installation is running.
4. Once the installation is complete, press Done to continue with the Google Maps setup.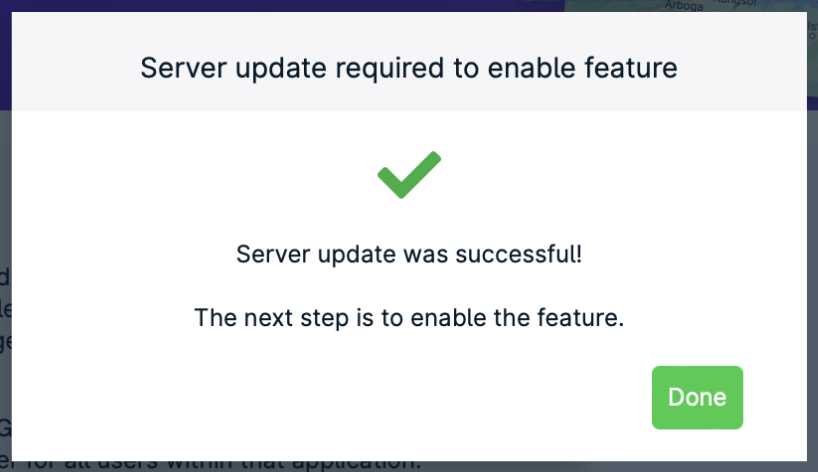 5. Google Maps is now available on your platform after the system update. Click Enable Feature to configure it.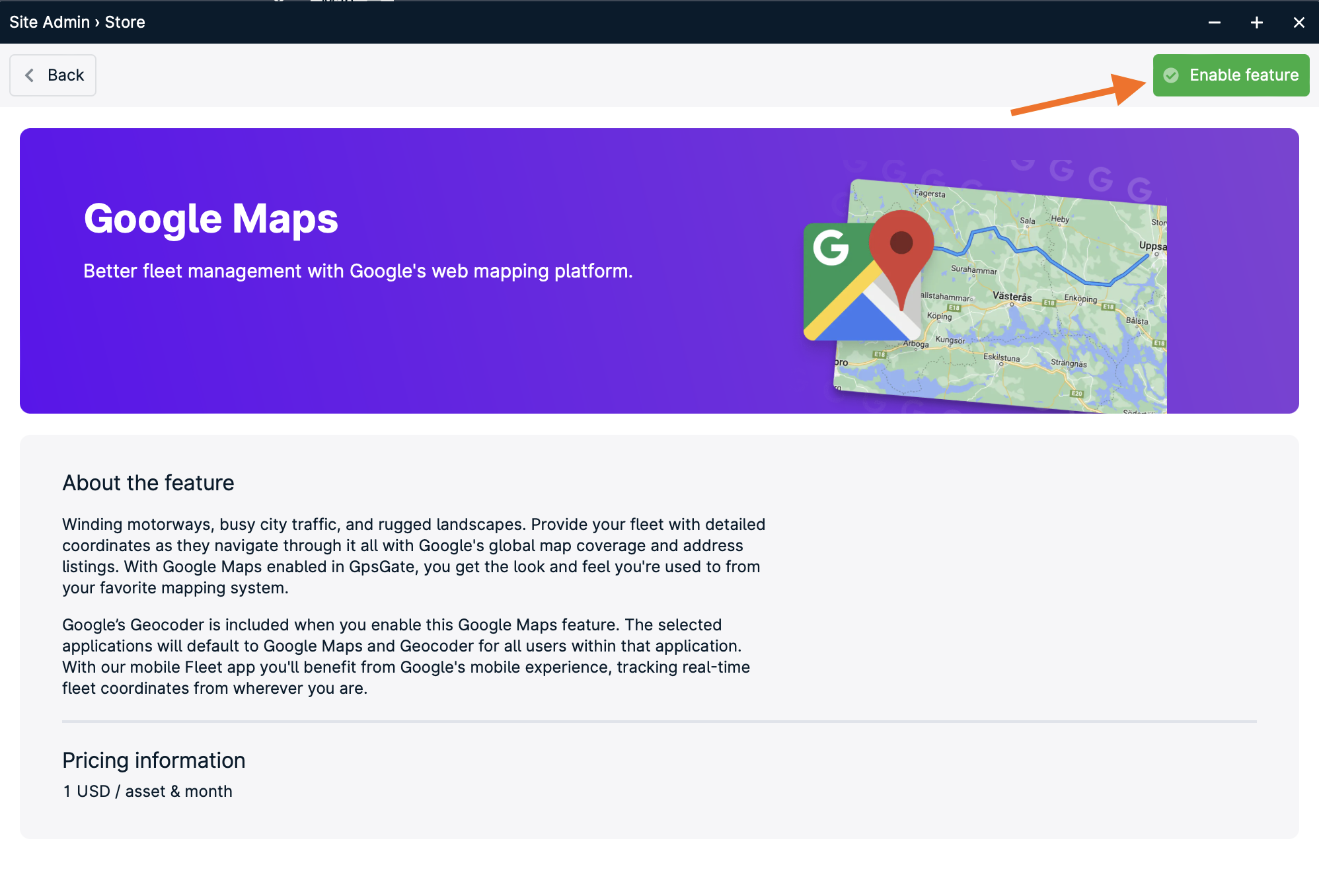 6. Enable for one or multiple applications via the Store.
It can take a minute or two for Google Maps to register with GpsGate. You will be notified in the top right corner of your application when Google Maps is ready to use!
Enabling this feature will remove any previous configuration of Google Maps like Map and Geocoding API keys.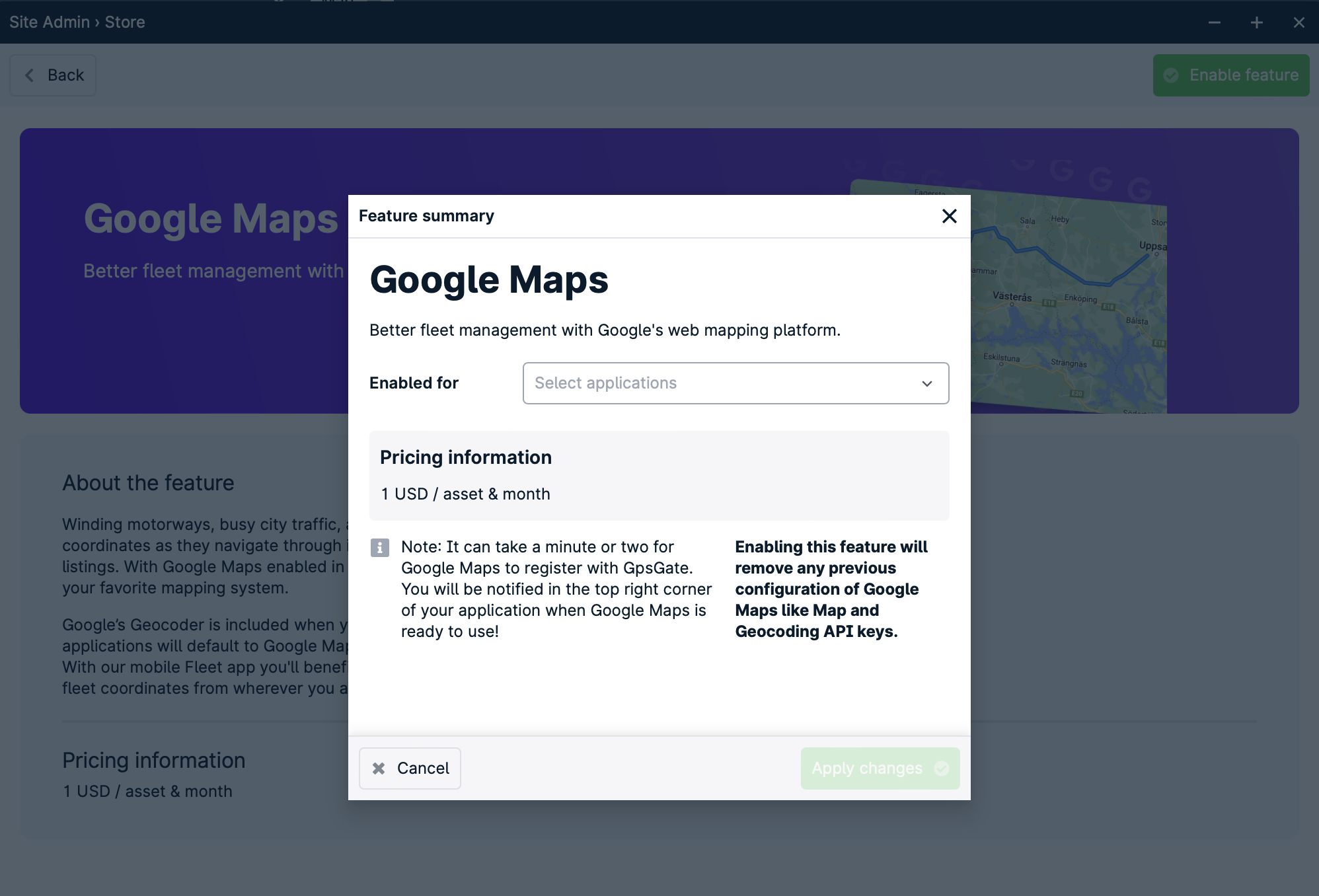 7. Once you have selected the application(s), press the green button that says Apply changes.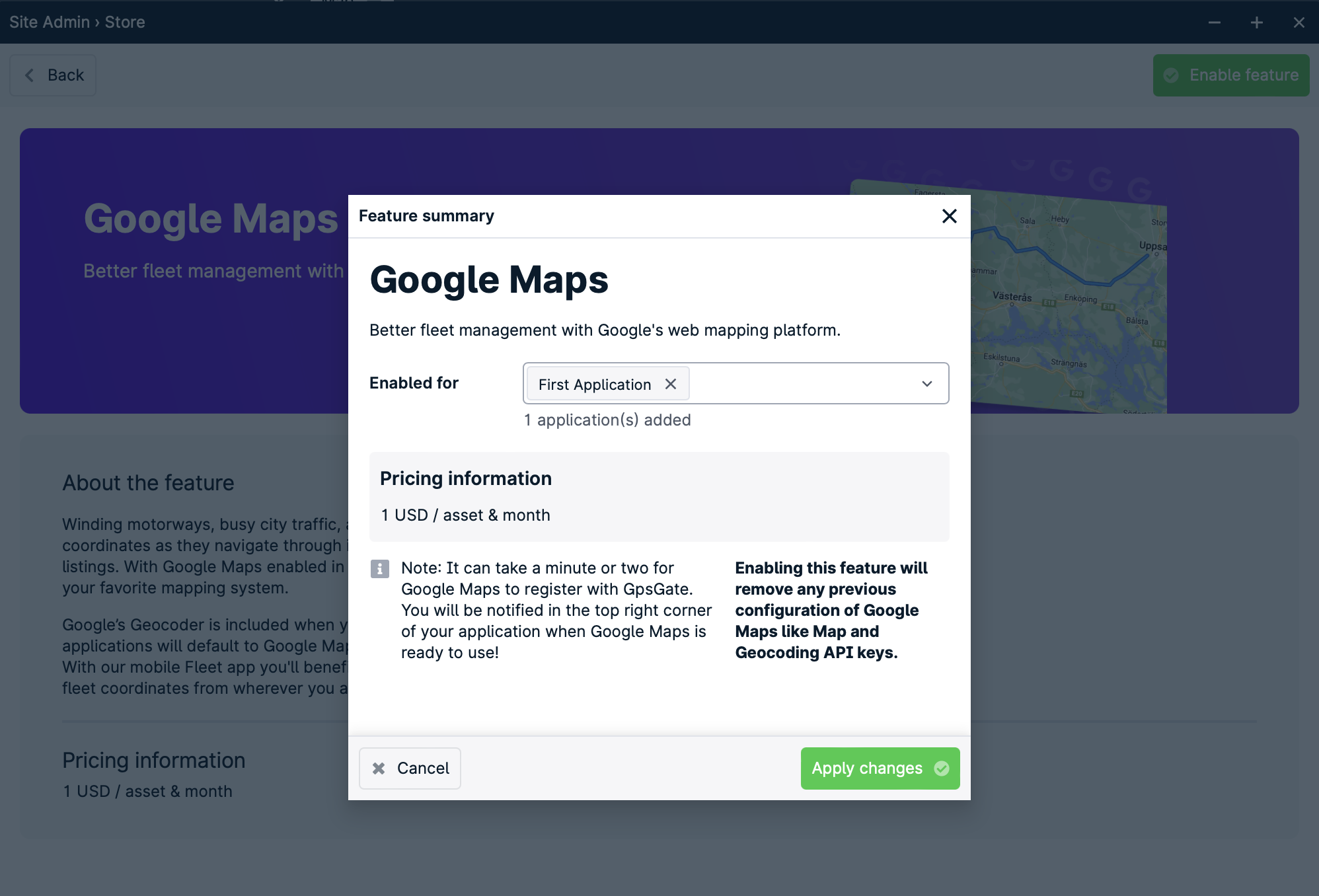 Once Google Maps has been configured, a message will appear on the screen prompting you to reload the page. Please wait a few minutes for the changes to be applied to your application.
Google Maps is now configured on your platform. Now you can enjoy all the features of Google Maps.
Q&A for Google Maps:
If I have my own Google Key, can I switch to GpsGate Google Maps?
Yes, you can switch to GpsGate Google Maps by following the instructions in the guide above. However, please note that you will not be able to use your own Google Key after doing so.
Can I enable Google Maps per application?
Yes, you can enable Google Maps for one or multiple applications.
If I already have a Google Key installed on my platform, do I need to do anything?
You can continue to use your Google Key as is for now. However, if you delete or modify your Google Key, you will need to install GpsGate Google Maps. There is no way to switch back to your own Google Key.
Can I buy a new API Key from Google and install it to GpsGate?
No, GpsGate no longer supports the use of API keys for Google Maps. The only way to use Google Maps in GpsGate is to enable it from the Store
---