---
iOS Profiles Configuration (change the default tracking parameters)
Question
How can I change the update rate of the iOS Tracker app?
How can I change the trackpoint settings?
Answer
1. Export the iOSTracker device types from SiteAdmin > Devices > Types.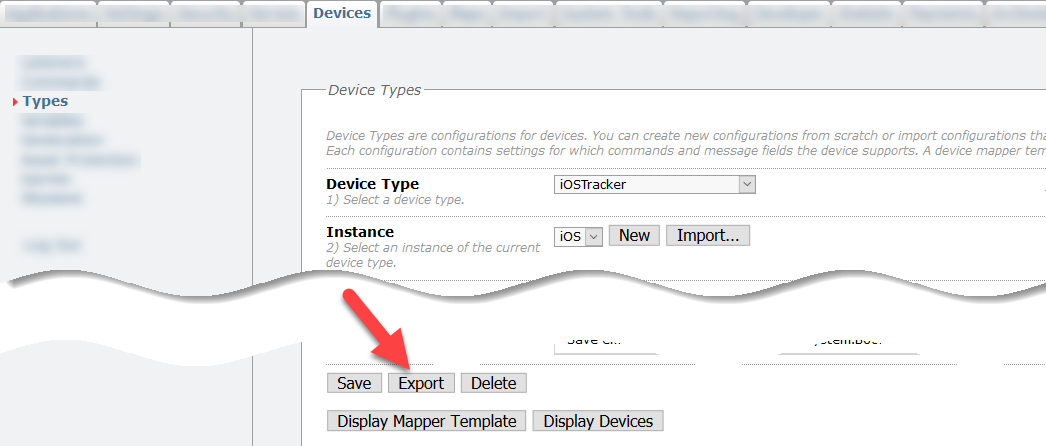 2. Open the XML file with your favorite text editor. You will see a section in the XML called Profiles.
3. Add your own profile in that element using the same formatting as the General one already there.
This allows you to create profiles for different use cases and deploy them to different devices as you wish.
Name is the display name of the profile
Tracker Interval is the frequency of logging the position in seconds
Tracker Distance is in meters
Tracker Direction Change is in degrees
Upload Interval is in seconds
Tracker Interval, Tracker Distance, and Tracker Direction Change cause a track point to be logged if any are met since the last point. I.e. a logical OR
Example:

4. Re-import this template and your new Settings Profile will appear in the Edit User window on all devices that use the profile
5. Select your new profile from the drop-down list and Save.
6. Connect to your application, and Edit the user that you want to apply the new profile. Select the new one from the list.
Default values
The General profile uses the following parameters in the XML file. These parameters are optimized for the device battery consumption and data plan usage. If you change these values, it is at your own risk.
Tracker time interval: 60 seconds
Tracker distance: 400m
Tracker direction change: 30 degrees
Upload throttle: 0 seconds (no throttle)
---